More info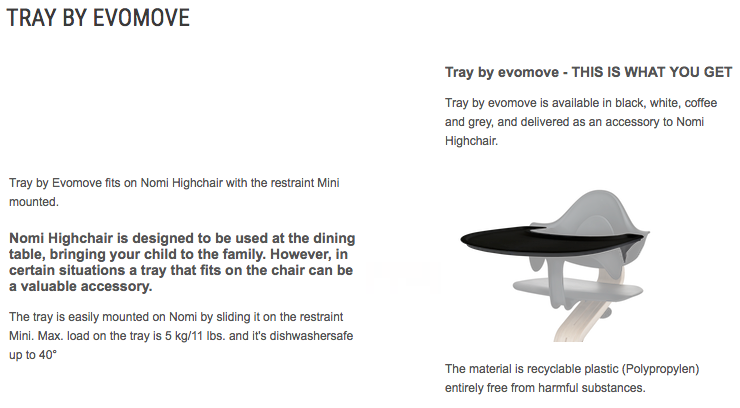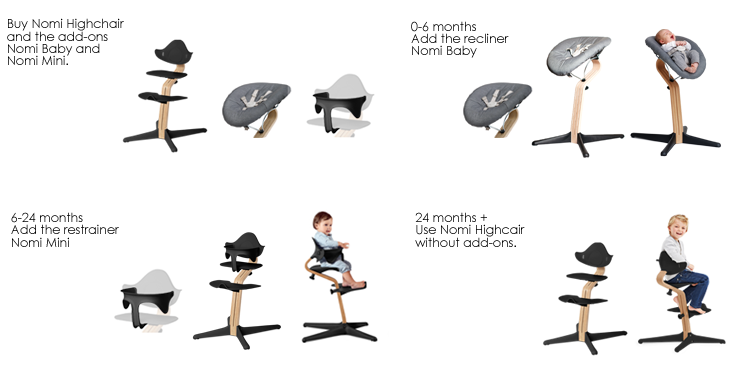 ALL IN ONE HIGHCHAIR
Nomi - from newborn to teenager
With its add-ons, Nomi Highchair becomes a chair for life
- Nomi Baby recliner provides the perfect spot for you baby to take part in family life. It is seamlessly adjusted from the almost horizontal to more upright positions.
- Nomi Mini restraint provides security for your toddler when sitting at the table
Seamless adjustment of seat and footrest with no tools required
When you adjust the height of the seat and footrest, the depth is automatically aligned thanks to the unique shape of the stem
The shape and structure of the seat and footrest prevent your child from gliding forwards and provide good foothold
The foot knob provides an exstra level of support and offers fidgety feet a place to rest
The chair back provides optimal back and arm support
The light and open design makes it easy for your child to climb in and out of the chair - and move in and out from the table
The soft, organic contours prevent knocks
The wheels minimise the risk of tilting
The light structure (5 kg) makes it easy to move the chair around the house - or hang it on a table edge
The smooth surface lines are easy to clean with a damp cloth
The sustainable and recyclable materials are free from harmful substances
SAFETY
Nomi has been tested by TÜV, Catas and FIRA according to the newest safety standards.
The wide legs provide ultimate stability
The rear wheels minimise the risk of tilting in case your child pushes backwards from the table
The size and structure of the seat and footrest deliver comfortable sitting with a good foothold
The conical shape of the middle stem ensures that the seat and footrest stay in place, even if you forget to tighten the adjustment knobs
Nomi Mini is approved according to the newest EN standards
Test and sustainability
Nomi has been tested according to the latest international safety standards*. The wood complies with the international FSC standards, while the plastic parts are made of recyclable plastic (polypropylene) free from parabens and phthalates. The cushions have been tested and approved by the Oeko-Tex® standard100 - the world's leading health certification standard for textiles. None of our materials release harmful substances.
*EN standards are European safety norms. They include testing of durability, function and stability. The stability of Nomi has been tested, even with extra pressure added to the extremities of the chair. It has also been verified that there are no holes or gaps in which the child can get caught or stuck. The newest norm from 2012 focuses particularly on the restraint and the design of the holes and gaps. Durability and weight load have also been tested. Nomi is also approved for adults with a durability test corresponding to 10 years' use.

When Peter Opsvik is joined by his grandchildren he often uses the floor as a playground, providing lots of space for play and movement. This also characterises the designer's chairs. For decades his chairs have inspired people all over the world, children as well as adults, to move and remain active while sitting. Peter Opsvik is convinced that people need the possibility to vary their positions and be active while they sit. It is the same philosophy that underpins Nomi's design.
His famous design